Surah Al Fatihah – Surah Fatiha with Translation in Arabic, English, Urdu & Hindi
Also read: Surah Al Fatihah with Urdu Translation
Surah Al Fatiha
Surah Al-Fatihah is the first chapter of the Quran and is recited in every prayer by Muslims around the world. It is considered to be one of the most important chapters in the Quran and is often referred to as the "Mother of the Quran." Quran is the most glorious Book ever revealed. It has 114 chapters and more than 6 thousand verses. The first chapter is known as Al-Fatiha, and the last chapter is An-Naas.  Surah Fatiha is the first chapter of the Holy Quran and has many different names.
Meaning
The word Fatiha فاتحة means the opener.
Different Names of Surah Al-Fatiha
According to some scholars, Surah Fatiha has almost 25 names.
Some of the other famous names are:
السَّبع المثاني (Sab'ul-Mathani: The Seven of Repeated Verses)
الرُّقْية (Ar-Ruqyah: An Amulet)
ام القرآن (Umm Al-Quran: The Mother of Quran)
الصلاة (As-Salah: The Prayer)
ام الكتاب (Umm Al-Kitab: The Mother of Book)
Surah Al Fatiha in Arabic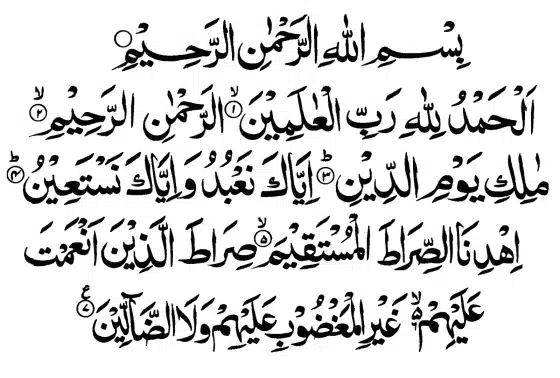 Listen Surah Al Fatihah Audio MP3